poly

Studio X30
Radically simple video bar
Keep it simple, no computer needed
Enjoy full boardroom-quality audio
Share content easily wired or wirelessly
X30
Overview
Your ticket to boardroom performance
Don't just have a meeting. Experience a boardroom-quality performance. The Poly Studio X30 is an all-in-one video bar for huddle and small rooms. It's radically simple to use with support for leading cloud video services built right in—no PC or Mac required. Voices are crisp and clear. And wireless content sharing lets users collaborate from their devices without the need for cables or pucks.
Benefits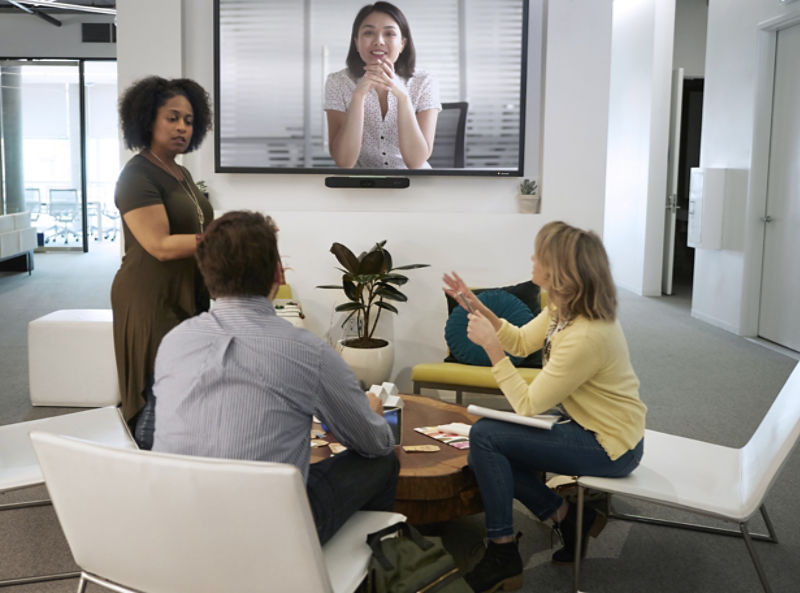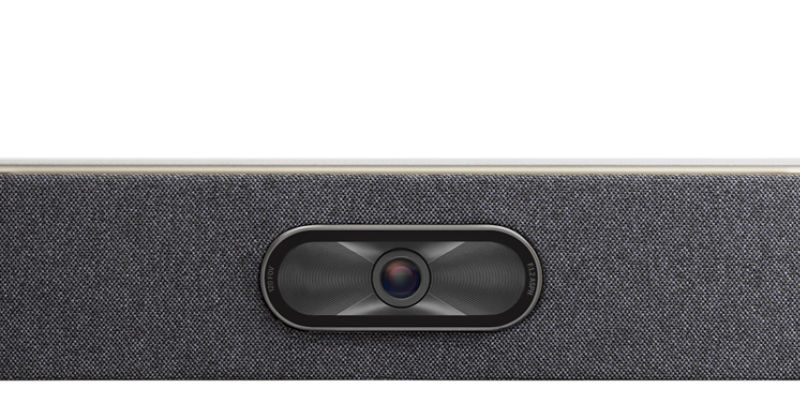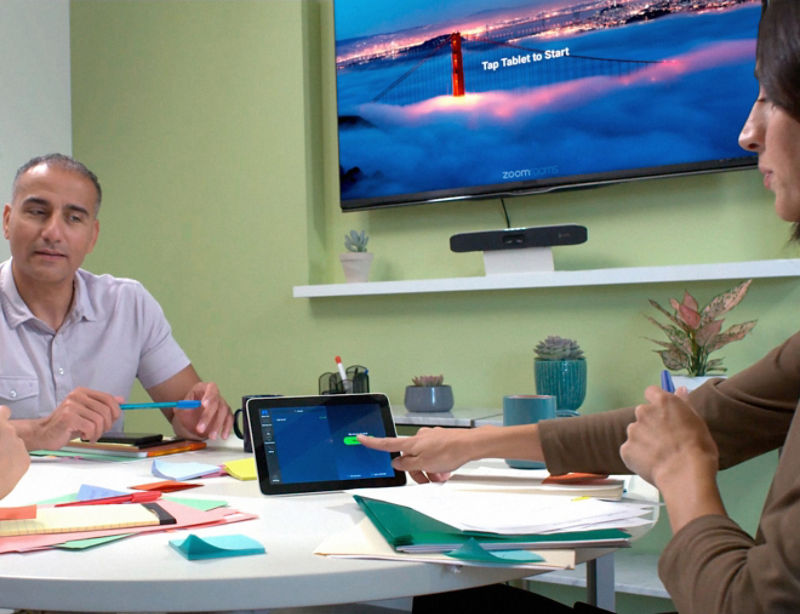 Simple Setup, No Drama
Production-Quality Performance
Do Meetings Your Way
Get your huddle and small rooms up and running in moments. No PC or Mac is required, with cloud service platform support built in. The compact, lightweight design easily fits on top or underneath display in rooms of up to six participants.
Feel more connected to others on the call thanks to production-quality camera framing. Block out audio distractions with NoiseBlockAI, powered by machine learning. And easily share content over wired or wireless connections.
Poly Studio X features native support for Video-as-a-Service (VaaS) platforms, including Zoom and Microsoft Teams, without the need for a PC. Plus, it has H.323 and SIP support for easy connection to any standards-based video solutions or VaaS gateway. So you can do meetings however you prefer.
X30
X30
Specifications
PACKAGE INCLUDES:

Poly Studio X30
Cable bundle
Monitor clamp
Privacy cover

VIDEO STANDARDS AND PROTOCOLS

H.264 AVC, H.264 High Profile, H.265

VIDEO INPUT

VIDEO OUT

1x HDMI
Touch display compatible

PEOPLE VIDEO RESOLUTION

4K, 30 fps (TX and RX) from 2048 Kbps
1080p, 60 fps from 1740 Kbps
1080p, 30 fps from 1024 Kbps
720p, 60 fps from 832 Kbps
720p, 30 fps from 512 Kbps

CONTENT VIDEO RESOLUTION

Input

UHD (3840 x 2160)
HD (1920 x 1080p)
WSXGA+ (1680 x 1050)
UXGA (1600 x 1200)
SXGA (1280 x 1024)
WXGA (1280 x 768)
HD (1280 x 720p)
XGA (1024 x 768)
SVGA (800 x 600

Output

UHD (3840 x 2160)
WUXGA (1920 x 1200)
HD (1920 x 1080)
WSXGA+ (1680 x 1050)
SXGA+ (1400 x 1050)
SXGA (1280 x 1024)
HD (1280 x 720)
XGA (1024 x 768)

Content frame rate

5–60 fps (up to 4K resolution at 15 fps in call)

CONTENT SHARING

Content App support
Apple Airplay
Miracast
HDMI input
Whiteboarding

CAMERA

4x digital zoom
120° FOV
UHD 2160p (4K) capture resolution
Automatic people framing

AUDIO INPUT

AUDIO OUTPUT

OTHER INTERFACES

1x USB-A (3.0)
1x USB-C
Bluetooth 5.0
WiFi 802.11a/b/g/n/ac (MIMO) Multi-channel Concurrency

AUDIO STANDARDS AND PROTOCOLS

22 kHz bandwidth with Polycom Siren 22 technology, AAC-LD (TIP calls), G.719
14 kHz bandwidth with Polycom Siren 14 technology, G.722.1 Annex C
7 kHz bandwidth with G.722, G.722.1
3.4 kHz bandwidth with G.711, G.728, G.729A

NETWORK

IPv4
1x 10/100/1G Ethernet
Auto-MDIX
H.323 and/or SIP up to 6 Mbps in Poly App video mode
Lost Packet Recovery (LPR) technology
Dynamic bandwidth allocation
Reconfigurable MTU size
Web proxy support—basic, digest, and NTLM
Simple Certificate Enrollment Protocol (SCEP)

SECURITY

Media Encryption (H.323, SIP): AES-128, AES-256
H.235.6 support
Authenticated access to admin menus, web interface, and APIs
Local account password policy configuration
Security profiles
Local account and login port lockout
Secure defaults
Remote logging with support for TLS
Active directory external authentication

OPTIONS

VESA mount kit
Stand
Wall mount kit
TC8

INTEROPERABILITY

Support for native 3rd party applications, including Zoom Rooms for Android and Microsoft Teams Collaboration Bar
All cloud service providers through Poly Video App mode

ELECTRICAL

Auto sensing power supply

Typical operating voltage/power

37 VA @ 120 V @ 60 Hz
37 VA @ 230 V @ 50/60 Hz

Typical BTU/h: 65

ENVIRONMENTAL SPECIFICATION

Operating temperature: 0 to 40 °C
Operating humidity (non-condensing): 15 to 80%
Non-operating temperature: -40 to 70 °C
Non-operating humidity (non-condensing): 5 to 95%
Maximum altitude: 16,000 ft

PHYSICAL CHARACTERISTICS

17.39 W x 2.46 H x 2.42 D (inches) 441.8 W x 62.5 H x 61.6 D (mm)
1.6 lbs/.73 kg

WARRANTY

One-year return to factory parts and labor
X30
Resources
Poly Studio X30 Data Sheet
Learn about the features, benefits and technical specifications of the Poly Studio X30.
Download Data Sheet
The Value of Huddle Rooms
Download the Frost & Sullivan report to learn about growing needs for huddle rooms and how to optimize them for your business.
Learn More
5 Reasons to Buy Poly Studio X
Find out the top five reasons how Poly Studio X gives your IT teams and users a powerful yet radically simple collaboration solution.
Learn More
Poly Video Family Overview
Learn about Poly's lineup of video solutions to help deliver radical simplicity to all your meeting rooms
Download Brochure
Big-D Construction-Case Study
Big-D employees and vendors enjoy a simple and efficient meeting experience. Whether at their desk, in a meeting room, or even a job site, employees can get their job done while the technology steps out of the way. The IT staff at Big-D are seeing less trouble tickets, and happier customers.
Poly Video Family Overview
Lineup of video solutions delivers radical simplicity to all your meeting rooms. Easy to install, easy to manage, and best of all, easy to use. Poly puts the mojo back into meetings.
Download Brochure
X30
Support
Find our resources, downloads, and software, or contact support for more assistance.
view all support
Contact Sales
Contact us by filling out the information below. Our sales team will get back to your inquiry within 24 hours.
Compare Products
Compare Poly Studio video bars
| | | | |
| --- | --- | --- | --- |
| | | | |
| | | | |
| Ideal For | Huddle rooms that need an all-in-one video solution | Huddle rooms that need to connect to multiple Video-as-a-Service (VaaS) platforms over USB | Small to mid-size rooms that need all-in-one video conferencing |
| USB connection to PC or Mac for video calls | | | |
| All-in-one video solution | | | |
| Native Zoom Rooms experience | Built-in | Through PC/Mac | Built-in |
| Microsoft Teams compatible | | | |
| Standards-based (H.323 and SIP) video | Built-in | Through PC/Mac | Built-in |
| Recommended # of participants | Up to 6 | Up to 6 | Up to 10 |
| Customizable video solution with flexible camera and microphone options | | | |
| Touch controller | Poly TC8 (8") | N/A | Poly TC8 (8") |
| Compute Appliance | Integrated Android | N/A | Integrated Android |
| Camera | Integrated camera | N/A | Integrated camera |
| Camera specifications | 120° wide angle; Group framing/speaker tracking; 5x EPTZ | N/A | 120° wide angle; Group framing/speaker tracking; 5x EPTZ |
| Mic speaker | Integrated mics and mono speaker | N/A | Integrated mics and stereo speakers |
| Audio pickup range | 15 ft (4.5m) | N/A | 25 ft (7.6m); Optional extension mic available |
| Other included items | Monitor clamp mount, cable bundle | N/A | Wall mount, cable bundle |
成本人片在线观看,成本人视频动漫免费,日本成本人片免费网站